About Us
Mr Chans is a Chinese takeaway in Woodford. Why don't you try our Fried Crispy Seaweed or Roast Pork with Cashew Nuts?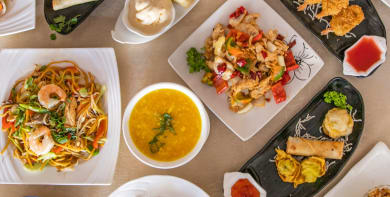 Reviews
275 reviews
Ian
"Delicious and highly recommend. Salt n Pepper Squid - best I've had in a long time! Thanks"
04/07/2021
Barry
"Excellent food and service, swiftly delivered"
25/06/2021
Sharlene
"Always happy to order from Mr Chans."
19/06/2021
GARY
"All good,Dangerous Tom would enjoy the food"
05/06/2021
Menu
Mr. Chan's platter (For Two)
Chicken Satay, Seaweed, Sesame Prawn Toast, BBQ Spare Ribs & Vegetable Spring Rolls
£14.00
Vegetable Spring Rolls (10)
Sweet & Sour Dip
£4.40
Deep Fried Squid in Sweet & Sour Sauce
£6.30
Deep Fried King Prawn In Peppercorn Salt
£6.80
Spare Ribs in Peppercorn Salt
£6.40
Prawn on Toast with Sesame Seeds
£5.70
Butterfly King Prawn in Breadcrumbs (8)
£6.90
Bang Bang Chicken
Served cold with peanut sauce
£5.80
Deep Fried Chicken in Peppercorn Salt
£5.90
Crab Meat & Sweetcorn Soup
£3.60
Crispy Aromatic Duck Half (12 Pancakes)
Served with hoisin sauce, pancakes & vegetable
Extra Pancakes: £1.50
£17.90
Crispy Aromatic Duck Quarter (6 Pancakes)
Served with hoisin sauce, pancakes & vegetable
Extra pancakes £1.50
£9.10
Crispy Aromatic Lamb (6 Pancakes)
Served with hoisin sauce, pancakes & vegetables.
Extra Pancakes: £1.50
£9.10
Chicken with Bean Sprouts Chinese Style
£5.90
Fillet Beef in Black Pepper & Honey Sauce
£8.80
Fillet Beef with Organic Tomatoes
£8.80
Fillet Beef in Peking Sauce
£8.80
Grilled Chicken in Garlic Sauce
£5.90
Lamb with Ginger & Spring Onions
£7.40
Chinese Roast Pork with Onions
£5.90
Chicken in Honey Chilli Sauce
£5.90
Beef in Honey Chilli Sauce
£6.00
King Prawn in Honey Chilli Sauce
£6.80
Steamed King Prawns with Garlic Sauce
£6.80
Roast Pork on Bean Sprouts Chinese Style
£5.90
Squid in Black Bean Sauce
£6.70
Squid with Ginger & Spring Onion
£6.70
Mussels in Black Bean Sauce
£6.70
Mussels in Szechuan Sauce
£6.70
Mussels with Ginger & Spring Onion
£6.70
Mussels in Peppercorn Salt
£6.70
Scallops in Black Bean Sauce
£8.20
Scallops in Szechuan Sauce
£8.20
Scallops with Ginger & Spring Onion
£8.20
Roast Duck on Bean Sprouts
Cantonese style
£6.80
Roast Duck with Green Pepper in Black Bean Sauce
£6.80
Roast Duck with Fresh Pineapple
£6.80
Roast Duck with Chinese Mushrooms
Bamboo shoots
£6.80
Roast Duck with Ginger & Spring Onions
£6.80
Roast Duck in Orange Sauce
£6.80
Roast Duck in Lemon Sauce
£6.80
Sweet & Sour Chicken Hong Kong Style
£5.90
Sweet & Sour Pork Hong Kong Style
£5.90
Sweet & Sour King Prawns Hong Kong Style
£6.80
Chicken balls with Sweet & Sour Dip (8)
£5.90
Pork Balls with Sweet & Sour Dip (10)
£5.90
King Prawn Balls with Sweet & Sour Dip (8)
£6.80
Special with Green Pepper in Black Bean Sauce
£7.00
Chicken with Green Pepper in Black Bean Sauce
£5.90
Beef with Green Pepper in Black Bean Sauce
£6.00
Roast Pork with Green Pepper in Black Bean Sauce
£5.90
King Prawn with Green Pepper in Black Bean Sauce
£6.80
Special in Szechuan Sauce
£7.00
Chicken in Szechuan Sauce
£5.90
Roast Pork in Szechuan Sauce
£5.90
King Prawn in Szechuan Sauce
£6.80
Special with Ginger & Spring Onions
£7.00
Chicken with Ginger & Spring Onions
£5.90
Beef with Ginger & Spring Onions
£6.00
Roast Pork with Ginger & Spring Onions
£5.90
King Prawn with Ginger & Spring Onions
£6.80
Roast Pork in Oyster Sauce
£5.90
King Prawn in Oyster Sauce
£6.80
Special in Yellow Bean Sauce
£7.00
Chicken in Yellow Bean Sauce
£5.90
Beef in Yellow Bean Sauce
£6.00
Roast Pork in Yellow Bean Sauce
£5.90
King Prawn in Yellow Bean Sauce
£6.80
Roast Pork with Cashew Nuts
£5.90
King Prawn with Cashew Nuts
£6.80
Roast Pork in Satay Sauce
£5.90
King Prawn in Satay Sauce
£6.80
Chicken with Chinese Mushroom
£5.90
Beef with Chinese Mushroom
£6.00
Roast Pork with Chinese Mushroom
£5.90
King Prawn with Chinese Mushroom
£6.80
Chicken with English Mushroom
£5.90
Beef with English Mushroom
£6.00
Roast Pork with English Mushroom
£5.90
King Prawn with English Mushroom
£6.80
Special Hofan
Chicken, Pork, beef & king prawn
£7.10
Special Seafood Hofan
Squid, mussels & king prawn
£7.30
Roast Duck on Egg Fried Rice
£7.30
Shredded Roast Duck Fried Rice
£6.90
Mixed Vegetable Fried Rice
£5.20
Roast Pork & Chicken on Egg Fried Rice
£6.20
Roast Pork with Pineapple
£5.90
King Prawn with Pineapple
£6.80
Tofu with English Mushrooms
£5.30
Tofu with Green Pepper in Black Bean Sauce
£5.30
Tofu with Ginger & Spring Onion
£5.30
Tofu in Yellow Bean Sauce with Cashew Nuts
£5.30
Tofu with Bamboo Shoot & Cashew Nuts
£5.30
Roast Pork with Mange Touts
£5.90
King Prawn with Mange Touts
£6.80
Mixed Vegetables in Oyster Sauce
£4.40
Mixed Vegetables in Black Bean Sauce
£4.40
Seasonal Chinese Vegetables
£5.60
Mixed Vegetable with Chicken
£5.90
Mixed Vegetable with Beef
£6.00
Mixed Vegetable with Roast Pork
£5.90
Mixed Vegetable with King Prawn
£6.80
Thai Red Curry with Chicken
£6.10
Thai Red Curry with Prawn
£7.00
Thai Green Curry with Chicken
£6.10
Thai Green Curry with Beef
£6.20
Thai Green Curry with Prawn
£7.00
Tom Yum Vermicelli Rice Noodle
£6.40
Shredded Roast Duck Chow Mein
£6.90
Mixed Vegetable Chow Mein
£5.40
Singapore Vermicelli Rice Noodles
£6.30
Shredded Roast Duck Vermicelli Rice Noodles
£6.90
Vermicelli Rice Noodles Cantonese Style
£6.30
King Prawn Vermicelli Rice Noodles
£6.30
Singapore Vegetable Vermicelli Rice Noodles
£5.80
Contact Us
Find Us
437 High Road, Woodford, IG80XE
We deliver to
E18, IG8, IG9